Heidi is such a great dog! Ignores the cats usually unless one comes close. Then she just watches it and touches noses if the cat gets close enough. She is doing much better with her leash pulling, she's still pulling but as hard and not as often. Last night Desi (our middle cat) walked with us. When we had our last dog, Chaos, Desi used to walk with us. He would just trot beside us and occasionly burst in front of us to tease the dog. He did that last night (much to Heidi's surprise). Heidi was good with the teasing and took it in stride. It was also a great sign that Desi walked with us, I think he's telling us he's accepting Heidi.
We are slowly weaning her off of Eukanuba to a better brand. Today we had fun in the backyard, she loped, trotted, and generally reminded me of a horse in her prancing! THe way she plays with toys also looks horsey. Today was the first day she made some noises. We also had to do some shopping today (including going to Trader Joe's to get her some nice healthy snacks). We were gone about 2 hours and when we got back she woofed from the back of the house and trotted out to greet us (she was on my mom's bed ;)


Heidi asks you to click the cut



Taken early this morning, on my mom's bed (mom was playing solitare on the laptop)



These were taken this afternoon, after the backyard romp.



Heh I was bugging her for photos ;)



Life is so hard



That's our dog blanket to protect the couch.



Heidi in midyawn, enjoying the backyard is hard work!



Heidi is interested in the pinwheel, which was moving from a breeze



The neighbor dog started barking. She will meet Louis tomorrow.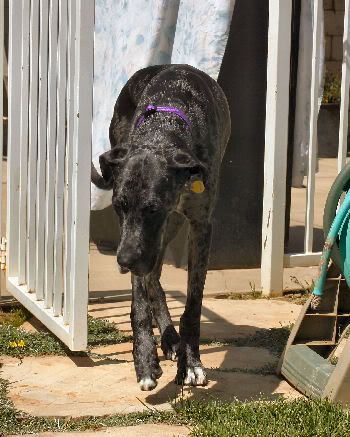 Coming to me because I called for her (what a good girl!)



Oh boy!



Heidi when we came back in. I think she's thanking me for a nice romp.