I kept getting torn in my desision to breed Fuzz one last time. One day it was "she can handle it" while the next day it was "I don't want to lose her since she's up there in age"
My final desision was NO, I will not breed her. She's still in ok health but she's getting flareups alot now. She used to NEVER get them but now, with her age, she's getting it alot. She will be two soon.
Anyway, a real update on the Fuzz Monster. She is saggy as always and she has the wuffles (cute word for a flareup with the noises). She is on Tylan right now. She really doesn't need anything stronger. She gets three-five Trader Joe chocolate chips a day, five almonds, pregnant mommy blocks, and my "older rat" mix. Her weight flucuates but not as bad as before, though she is skinny. I weigh her every other day and if she loses at all I increase the lab block number (she usually gets four a meal. With her special care, I hope that she will be with me at least one more year.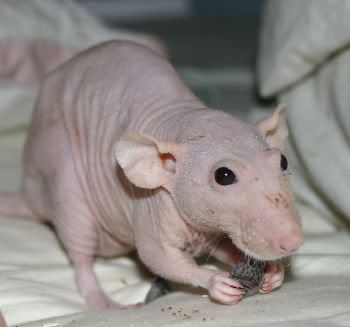 Enjoying her nightly chocolate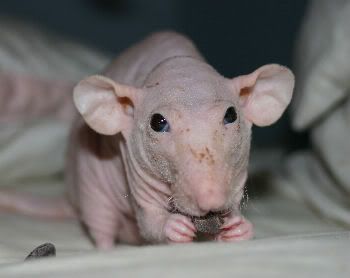 The red is a bit of discharge (will not attempt to spell it right now). Her flareup is worse then usual right now. Usually it's just noises, but for the last 48 hours discharge has gone along with it. These photos were taken around 1am on the 29th. Now (6pm on the 29th), she doesn't have anymore discharge and her noises are less.