I just had to share my joy! I bred my girl Amber to a friend's harley boy. The female carries harley so the breeding was to produce harleys. Anyway! The babies were born today, sixteen! One of them is a manx
I was extremely surprised, the manx goes pretty far on the father's side and I didn't even know it was on the mom's side.
I hope this litter will have harleys. The majority of this litter have wavy whiskers, but that doesn't mean anything. The colors will probably be mostly agouti and maybe fawn.
My camera is being fixed so I can't share my joy, but in two weeks I should get it back. In the meantime, there is a photo of each parent :)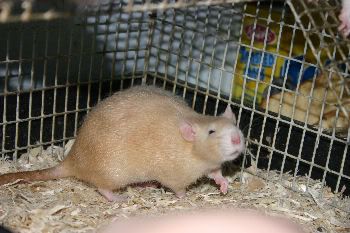 This is Amber, a fawn self. She carries harley (hopes) and dumbo and comes from Pennsylvania.



This is Marietta, who is owned by a friend's friend. He is a himi harley from Washington