I will have another photo post following this one. I didn't want all the photos in one post.
The other day I went to my friend's house to pick up some males for myself as well as borrowing one of her boys to use as a stud. This post is about the stud\breeding and the photos.
Slick, the male, is a very sweet fawn hairless dumbo. I am going to breed him to my own Fuzz, another fawn hairless dumbo. Most of you that know any of my rats will know of Fuzz. She is the queen of my rattery. Everytime I get a customer I bring out the Fuzz Monster, and they automatically fall in love.
This will be her very last litter. I thought very hard about breeding her. She was recently injured (you might remember my story of her getting slashed open). She's also a little older, though not too old. After much debate with myself, I decided to go for it. She's extremely healthy, healed very fast, is a wonderful lactator (I put five babies with her when she already had 10 once), and she's such a sweet girl. If anybody in the Los Angeles area is interested in a Fuzz baby, let me know asap. She will probably have a smallish litter (I'm thinking around 8) and I already have a lot of interested people.
I have had the two together since Sunday, so I hope she will go into heat fairly soon.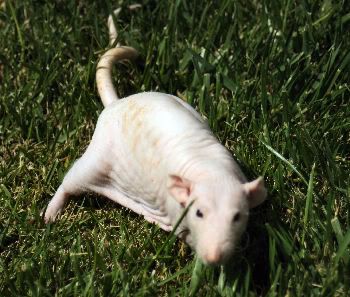 This is Slick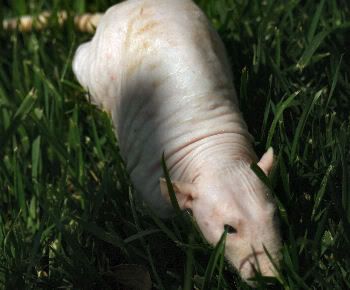 Slick again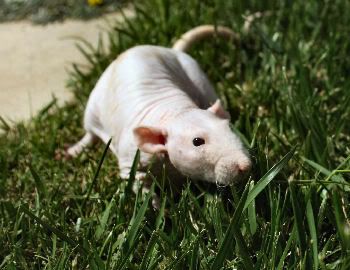 Slick once again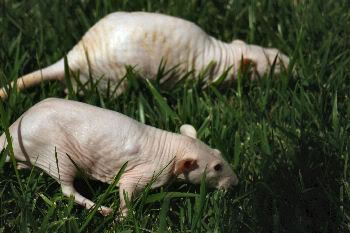 Fuzzy in front



Fuzz having a bit of trouble in the grass lol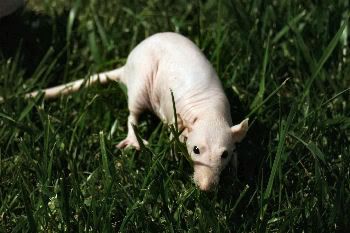 Fuzz and her large eyes



Fuzz really isn't as skinny as she looks. SHe lost a bit of weight after the injury but quickly got it back. She seems skinny because she's a hairless and she's very baggy (she's had two litters, what do you expect?)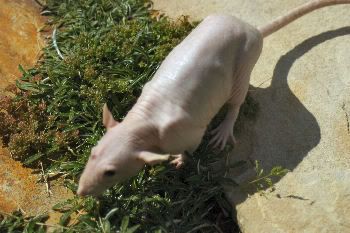 I had to take all my recent photos outside because my camera bulb blew :(

Pardon any spelling errors, which I know exist. I'm tired and burned out from final studies